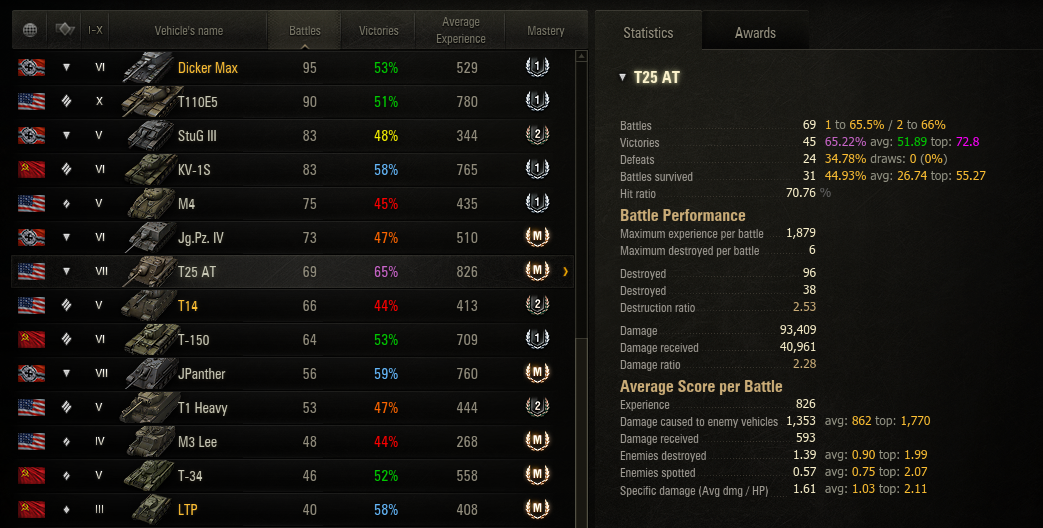 The statistics
This is an example of the Statistics-screen picture you will meet. What you see on this picture, is a list of different vehicles and this player, who have chosen to share his screen-picture, has fought a lot of battles. I can "tell" you this, by looking on the list of Mastery badges. It's not always easy to get an "ace-tanker" mastery badge. (The ones with "M" on them). Sometimes it can take very long time. And sometimes, not much is required either because the other players driving these vehicles have been misrable in them, the past week or two, or because they are simply not driving in them.
Some of those vehicles are in this list marked with yellow; their names are written in yellow. You can get a modpack, to highlight this kind of vehicles, called premium vehicles. Driving in these and you earn more credits, than you would with a non-premium vehicle. But once again, in these low tiers, premium vehicles are not much of a concern at all. We will also return to those, later on.
To the right of the list is showed the player's statistics for the chosen vehicle, which is a T25AT. A vehicle I would say to be an american one. Probably one of the tankdestroyers. However, vehicles get removed now and then from the game, by wargaming. Some are happy, some are sad about each of them. But as a fame lyric goes; that's just the way it is.
It is also here you will find the medals you will earn, as you begin to fight more battles. You can see the medals earned on each vehicle, by clicking on the "bar" to the right of the shown "statistics", or you can choose to get all those medals you have earned, shown at once. To do that, you chose the bar "Medals" above this list.
On the "reccords" or "resume" you will see a total view on your latest staticts; performance =>"efficiency", win-rate, maximum experience earned, ace-tanker mastery badges earned, maximum damage dealt, average xp earned pr battle, avaerage damage dealt pr. battle, penetrations and of course, the total amount of battles fought. Some players values this very much. And for that reason, they might try to step on you and point their nasty ugly fingers at you, because of your possibly bad stats. This, is however one of the bigger problems in the game. Even I can find it hard to ignore it and I know you will as well, but still I would encuorage you anyway to try. Because these players aparently aren't that good, as their stats might say. They can't be, since they still have a need to step on others, for feeling better themselves, in stead of focusing to keep grow better.
One day, you who once was a beginner, have grown this skilled, that you can easily pull the carpet away, simply drag it away under their feet. Those kind of players, have no ideas what they are talking about. Only addicted, to some empty, dry numbers and percentages.